GO FROM LIKELY TO BE SUED
TO CONFIDENT ONLINE BUSINESS
WITH PLAIN LANGUAGE LEGAL STRATEGIES
Don't Put Your Business At Risk any longer
In 2016 the Sustainability Accounting Standards Board reported that 89% of consumers avoided companies that they felt did not adequately protect their privacy, with 45% of respondents more worried about online privacy now than they were a year ago. In COVER YOUR ARSE ONLINE, I'll show you how to put in place privacy protections, manage personal information and create a better experience for your customers.
Where to Look for Legal Answers
There is so much information on the internet, how do you know what to trust? I'll show you the exact tools I use to check out the companies I do business with, and their online assets.
Bonus Legal Templates and Checklists
These resources will reduce the pain of trying to work out what is right for you. Don't go it alone – follow the lead of someone who's been there, done that.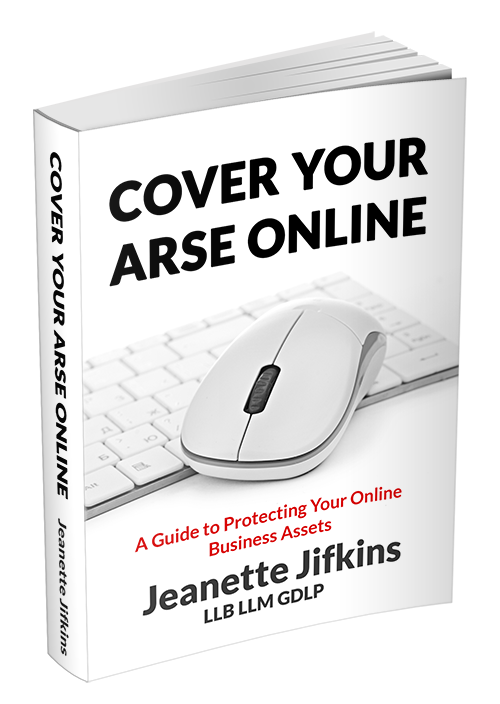 Want to increase your confidence around legal issues affecting your business?
As professional website investors, we know the importance of protecting our online assets and this book is essential reading if you own a website, or about are to invest in one!
Jeanette has become a specialist in helping people cross this potential mine field by becoming an expert on the requirements of meeting your legal obligations online. Capped with the fact that she can also help you protect your interests, giving you the space and ability to do what you do best, knowing your best interests are taken care of.
WHAT YOU WILL LEARN
When it is important to invest in legal help, and when you can wait
How to check the legal status of your online assets, for free
How to avoid nasty 'cease and desist' letters and protect your online content
Working out which legal forms you need and how to use them
How to collaborate with others to grow your business
The Best ways to use terms and conditions on your website and social media pages to protect your business against being sued
Risk Management made easy to help you identify the real risks to your online business and the simple actions you can take to control them
Discover how accessibility can increase your audience by 15% overnight
The basics of business structures so that you get the best value out of what you do
Part-timers
For everyone who has started to build a business in their 'spare time' around your day job, gain some peace of mind by getting the fundamentals in place, rather than running the risk of having to start from scratch just before launch, like the case study we look at on page 10.
Entrepreneurs
Its exciting to think you have the next 'unicorn', but how do you protect your ideas while you're looking for investment and support? From page 69 we start looking at the different ways you can protect your ideas so you can get out there with confidence.
Small Business
Finding customers is hard enough without ticking them off with sloppy online communications. We go through the simple steps you can put in place to be anti-spam compliant and keep your existing customers and new leads happy from page 115.
Medium Enterprise
Just big enough to have regular legal issues but not quite big enough to employ a lawyer in house. Understanding all your key contracts is key to smooth operation and we provide some basic skills for your team from page 195.
CHAPTER 1
control your online assets
CHAPTER 3
protect your creative content
CHAPTER 11
structure your business
You have to learn the rules of the game. And then you have to play better than anyone else
CHAPTER 2
avoid cease and desist claims
CHAPTER 4
what you can and can't say online
CHAPTER 9
make it easy for your client to buy
Any business that is looking for new customers needs to understand the Internet and how to market their goods or services through it
CHAPTER 5
your rights when working with others
CHAPTER 7
your obligations to protect privacy
CHAPTER 13
resolving issues with clients quickly
I have learned that nothing is certain except for the need to have strong risk management, a lot of cash, the willingness to invest even when the future is unclear, and great people.
CHAPTER 8
expand your market overnight
CHAPTER 10
streamline your business with standard contracts
CHAPTER 12
add value to your business by reducing risk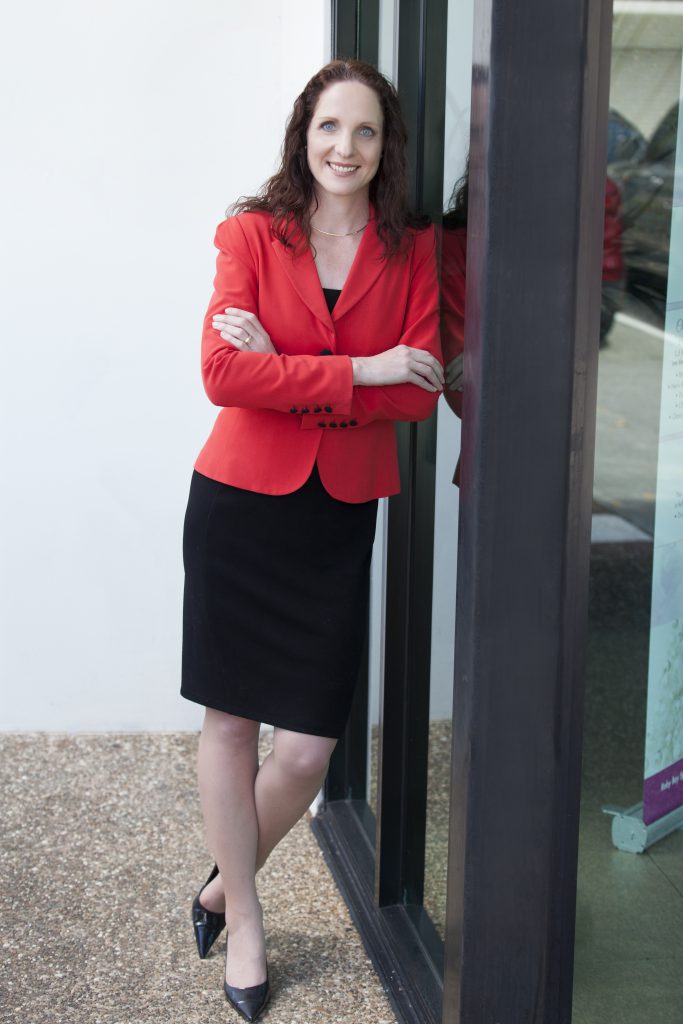 ABOUT THE AUTHOR
Hi, I'm Jeanette Jifkins, Commercial Lawyer, Professional Board Director and Presenter, and founder of Onyx Online Law.
In the past ten years I've worked with hundreds of online business owners to relieve the stress that people often feel when confronted with legal issues.
Through working closely with business owners using plain language and searching out achievable solutions, I developed the guidelines and strategies you find in Cover Your Arse Online: A Guide To Protecting Your Online Business Assets.
It's so much easier to put strategies in place before you get sued than to go through the headaches and heartaches of legal proceedings. Don't wait until something goes wrong.
If you are like a lot of people in small business, it's difficult to know where to start if you don't even know what legal issues could affect your business. The object of this book is to help you recognise where there might be risks to your business, and then to make an informed decision about what you can do to protect it. I hope this book will help you do just that.
For questions about the book, or requests for interviews, speaking engagements, or workshops with your team, please contact me at support@coveryourarseonline.com.
Thanks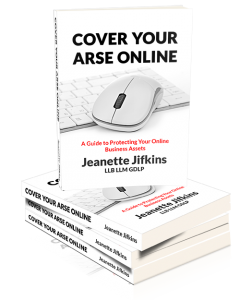 Cover Your Arse Online (PDF)
A digital copy of Cover Your Arse Online: A Guide To Protecting Your Online Business Assets.
Cover Your Arse Online (Paperback)
266 pages of easy to follow legal stories and strategies to understand the key risk areas in your business and successfully protect what you have built.
Cover Your Arse Online (PDF)
A digital copy of Cover Your Arse Online: A Guide To Protecting Your Online Business Assets.
THE DIGITAL PACK
Cover Your Arse Online (PDF)
THE REFERENCE PACK
Cover Your Arse Online (Paperback)

Cover Your Arse Online (PDF)